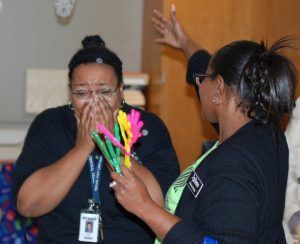 Mini-Grants
We are offering all PfISD teachers the opportunity to apply for Mini-Grants. The purpose of these grants is to enhance, promote and augment classroom instruction in areas not routinely allocated in regular budgetary funds or not eligible for reimbursement from other sources. You can use the money for things like classroom field trips, conference registration fees, professional development, equipment, etc. (NOTE: Mini-Grant funds are not available for personnel costs, technology or personal travel expenses.)
Application
The Mini-Grant Application is online and can be found here:
Submission Deadlines
The Mini-Grant application needs to be submitted before the 3rd Thursday of each month to be considered for that month. The due date for September is Thursday, October 21.
Awarding of Funds
PEF will award 4 Mini-Grants each month from September to December up to $1,000.
Teachers may apply more than once per year. Teachers who have received grants may reapply for different projects for consideration.
---
Prior Mini-Grant Awardees
2020-21
Thank you to all education staff applying for mini-grants in the 2020-21 school year and congratulations to the winners.
A total of $10,582 was awarded to the following staff and campuses:
| School Name | Grant Title |
| --- | --- |
| Windermere Elem | Compatible Document Cameras |
| Mott Elem | Manipulatives Amidst a Pandemic |
| Parmer Lane Elem | Discovery Maker Interactive STEM Cart/ Coding with KIBO |
| Connally HS | Monthly Healthy Breakfasts for CHS Faculty and Staff |
| Northwest Leadership Academy | Pfinding Our Voice and Pfeeling Our Learning, Bringing Vocabulary Rich Experiences and Sensory Activities to the Intervention Classroom |
| Ruth Barron Elem | Let's Bring Texas History to Life with Texas Studies Weekly! |
| Wieland Elem | We Love Diverse Books! |
| Brookhollow Elem | Brookhollow Community Garden Improvement |
| Parmer Lane Elem | Can You Hear Me Now? |
| Parmer Lane Elem | Hydration Station |
| Dessau MS | Enhancing Mindfulness |
| Pflugerville HS | Choosing Culturally Relevant Literature |
| Wieland Elem | Play, Learn, and Have Fun! |
| Northwest Elem | Covid-safe Art supplies |
| Weiss HS | Edpuzzles for U.S. History: Interactive Teaching & STAAR Prep |
| PACE HS | Construction Logistics |
| Dessau Elem | AB can you C a rainbow for me? |
| Parmer Lane Elem | Centers for A Covid Safe Classroom |
| Hendrickson HS | Vocational License fees |
| Pflugerville Elem | Garden Boxes abloom at PES |
| Pflugerville HS | Pre-20th Century Verticle Curriculum Alignment |
| Pflugerville HS | Summer Reading Access for All |
| Parmer Lane Elem | Watch, Exercise & Learn |
| Kelly Lane MS | Digital License for math teachers |
| | |